A Menu of Small Things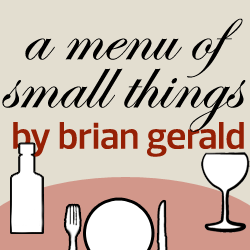 When I moved to New York City in 2007, my plans were work, free time, and the occasional trip to visit my family. There were no grand plans for changing the world or even changing myself.  Then my iPod broke and I didn't replace it. A string of small choices–some accidentally, some intentionally–later and here I am today.
As many readers know, recently I have been reflecting over the past three years and compiling those things which changed into "A Menu of Small Things."  Now it is here and available for your downloading pleasure.

Click here to download "A Menu of Small Things"
Technical note: "A Menu of Small Things" is a PDF. I know most computers are more than capable of handling that file type, if you need Adobe Reader, it's free too. If you have trouble, contact me and we'll figure it out.
Even three years later, I discover new ways in which small things become catalysts for larger changes and breakthroughs. I invite you to sample some of the items on the menu and also to reflect on the small things you've already changed.
So what's inside?
Twenty one suggestions on small things which can change, broken down into three categories: Starters, Entrees, and Desserts
A bonus "Second Course" for the adventurous
Advice from a wide range of life chefs including Peterson Toscano, Zoe Jouannelle, and Alexey Timbul.
Specific suggestions for how to implement the small things, along with the flexibility create your own plan
Dig in!
Download the menu, read it, share it, post it, quote it, print it, do whatever you like with it. After you're done, feel free to come back and leave your comments on this post. If you want to stay up to date on future articles and resources, you can follow Work In Progress via RSS or sign-up for updates by email (which includes a free "Get To Work" series).