An Offering: Everyday Activism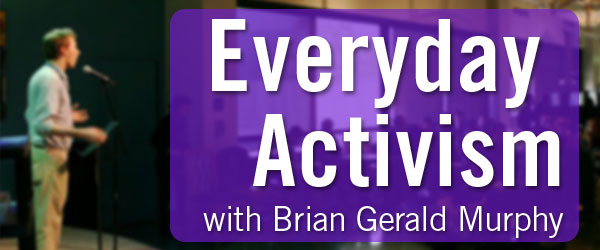 Five years ago, I participated in activism for the very first time. Up until that point, I had not so much as attended an informational town hall or made a small donation to charity, let alone engage myself in the process of transforming the world for good. Now, I engage in activism full-time. Over the past five years, my engagement with activism has taken different forms: self-improvement, volunteer, donor, consultant, board member, and staff.
I discovered there are many ways to change the world. And that some of the most profound shifts begin with simple, everyday changes.
How will you change the world if you don't begin changing?
My first encounter with activism was the Soulforce Equality Ride. Rooted in nonviolence, we spent months preparing ourselves: research, peer education, Bible study. We learned from leaders of other civil rights movements how to prepare for potentially violent confrontations, how to root out hatred from our own hearts, how to pursue reconciliation.
This has changed every element of my life, my relationships, my work, how I interact online, how I show up offline. It's changed everything.
I spent two months on a bus criss-crossing the country creating dialogue (and dealing with dissent) at colleges and in communities across the country. But activism didn't end when I got off the bus. I continue to incorporate activism into my daily life. Sometimes it's as simple as my choice of words, other times it's as bold as organizing a large public event. Every step is grounded in intentionality and practice.
It's a lot of work. I'm still very much a beginner at it. You are invited to join the journey.
//
Name
Everyday Activism
Purpose
To help you meet you discover strategies for social change which work for you in your situation, and then for your to begin changing yourself and the world around you.
Launch Date
Everyday Activism is now available.
Start Date
Everyday Activism begins when you sign-up. You'll receive the first unit the day after your payment is processed.
Price
Everyday Activism is $23.
If you're ready to buy now, you can sign up here: http://eepurl.com/iwDOQ
What is Everyday Activism?
Experiences from me on changing myself and changing the world. Activism strategies that worked/didn't on personal and public levels. How I evaluated and adjusted.  From this, I distill an experiment for you to work with and apply immediately in your real life
These are actual experiences I've had, and I'm going to be covering some ground I wouldn't cover in the public, nor even to the free list. I'd call it edge work; some of it may challenge the ideas you have about yourself (or, for that matter, me). It's important you know this before going in.
The intention of this work is to help you meet you discover strategies for social change which work for you in your situation, and then for your to begin changing yourself and the world around you.
How does it work?
12 units, across four weeks
Monday, Wednesday and Friday messages to your inbox
How does this benefit you?
Everyday Activism is an invitation to connect with yourself and the community around you. You'll be prompted and pushed to reflect on your life and values and to take actions to make yourself, your community, and the world a better place. It's a guided introspection and an offering of potential.
Who is this for?
This is for you if you want take small, discrete actions to better yourself and your community. You're committed to doing good but also have a life to live. Is there anything I can do? Right now? From here? If you're motivated, courageous, and willing to stretch yourself, Everyday Activism is for you. (It's ok if you're a little bit scared or nervous, too)
If this isn't for you
If this isn't for you, but you think it may be for someone you know, please forward it on. There's a forward link in the footer of this message. The Free Daily Dispatch will continue uninterrupted as usual. If you don't want to dive deeper with me in this offering, absolutely no worries, pressure, or hard feelings. (If it is for you, you can sign-up here)
If you have questions
I'm open to hearing your questions about the offering, and invite you to send any my way by replying to this message as you would any other. I'll do my best to answer you and in a way that will serve the group. I'll send answers to the group Sunday morning, the day before the pre-launch ends.
###