Born Again (Again) At Wild Goose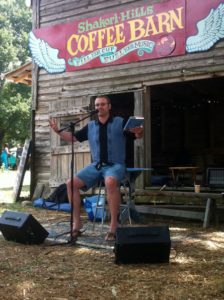 I regularly waft between atheism and faith. This is nothing new. When I was younger, every year at church camp or YoungLife camp I would recommit my life to Jesus, concerned that in the past year I'd lapsed in my faith. Normally, this concern centered around my inability to maintain a daily ritual of waking up before school for 15 minutes of Bible reading and prayer. Or I was worried I had brought too few friends to church or YoungLife club (how many converts is enough?). Were my shortcomings proof that I didn't really believe? Was I on the wide road to hell?
These days, my concerns are more about the nature of God, religion, scripture, humanity, science. Did Moses really make waters of the Red Sea part? Did Jesus ascend? Like, he floated up into heaven? Where did he go then? Did he fade away? Just disappear? Past the clouds? Past the atmosphere? Did Jesus fly over the moon?
I settled into a comfortable atheism: no, Jesus did not float up into heaven; no, God does not sit up on a throne somewhere in the sky; yes, we are eaten by worms after we die and that is all. Sure, religion provides meaning for many people. OK, sacred texts and tradition serve as motivation for people to "do good" in the world. Yes, community is a good thing.
The Wild Goose is a Celtic metaphor for the Holy Spirit. I chase the wild goose, I follow the wild goose, I feel the wild goose flapping her wings overhead. In a field outside of Pittsboro, North Carolina at Wild Goose Festival I realized something:
I cannot control what my mind intellectually believes about complicated, theoretical events situated thousands of years in the past. The parting of the Red Sea, the resurrection of Jesus. I also can only make judgements with the information I have available: it seems like our universe does not experience ruptures from the supernatural beyond. Am I supposed to trust the words men I never met; redacted, edited, modified, and translated by other men I never met over the course of thousands of years? That feels silly.
But here is what I can do, what I articulated for the first time to William and Ryan in a field while eating hot dogs and drinking punch with Mark Scandrette, Tony Jones, Doug Pagitt, and Matt Beams: I can recognize in the Gospel story something powerful and profound. I can say, "Yes, this is a story that I want to participate in." I can align myself with the Kingdom of God rather than with the powers and principalities of this world. I would love for there to be a party in heaven waiting for me when I die. But even if there isn't, even if this world is all we have got, this Jesus story, this redemptive work, this sacred community building, this is something I still want to be part of.
"Very truly I tell you, no one can enter the kingdom of God unless they are born of water and the Spirit. Flesh gives birth to flesh, but the Spirit gives birth to spirit. You should not be surprised at my saying, 'You must be born again.' The wind blows wherever it pleases. You hear its sound, but you cannot tell where it comes from or where it is going. So it is with everyone born of the Spirit."
Call me a born-again Christian.
Photo by Ryan Hines of Glen Retief