A morning ritual to change your life (that you can actually do)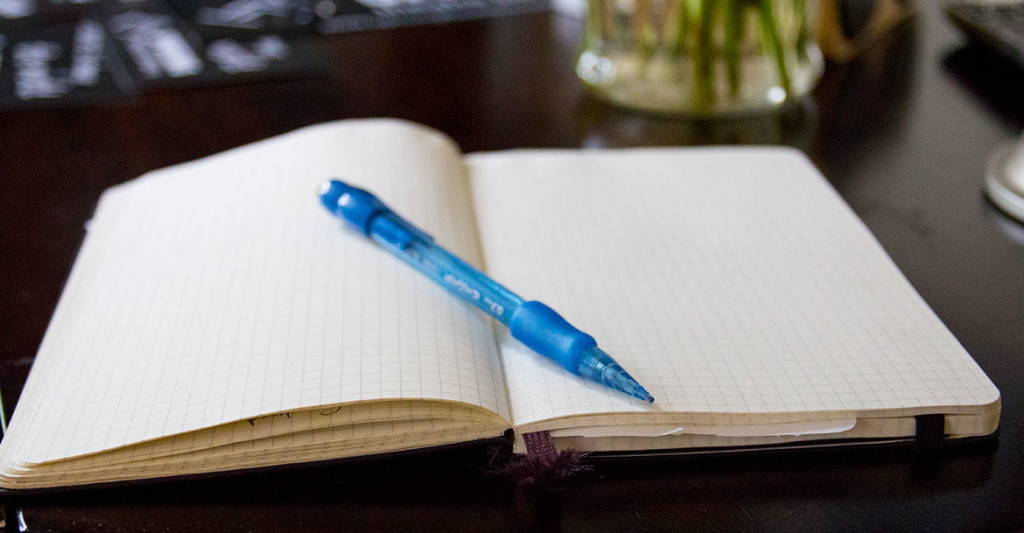 It's 8:15 a.m.. I walk out of my bedroom and into the living room where the sun is already spilling through the double-windows, across our teal and grey speckled rug and on to the hardwood floor. Despite what you may have read about "creatives" on the Internet, we don't all get up before the sun rises to go for a 5-mile run followed by a big cool glass of fresh-pressed green juice.
What's the secret to creativity?
You don't need to subscribe to extreme diets, fitness plans, or lifestyle models. You don't need to be paleo or vegan. Cultivating creativity and finding focus gets a bad rap. It's not as difficult as you might have believed.You don't need to find nirvana to find focus.
But 8:15 a.m. is when my morning—on my best days—begins to look a little less average. I sit at the table (ok, confession: sometimes I sprawl on the couch) and I write.
I write three pages. Sometimes I write in a Moleskine notebook (internet creative cliche: check.). These days though, I'm mostly writing in Evernote (I'm writing this in Evernote too… I love keeping everything all in one place). On Evernote days, I write 750 words.
I write about whatever I want really, but mostly I open with someone comment about how it's later in the morning than I would like it to be and then I complain about how haaaaardddddd it is to find time to exercise, to practice my hobbies, to pursue creative projects, to get everything done at the office. That'll get me about 200 words. Then, when I've run out of steam, I turn to writing about the mundane. My morning pages become like a journal.
I did this yesterday. I'm going to do that today. I feel some sort of way.
If I write long enough, though, it gets juicy. About two-thirds of the way through, I just run out of bullshit. I've got to get real. Anxieties about turning thirty soon. Uncertainty about my relationship. Doubts about my talent. Questions about my career. Unspoken hopes and dreams. Secret crushes. Off-the-wall business ideas.
And then I'm done. I hit the third page or the 750th word and I can stop.
Here's what I discovered over the years of doing this:
There's something about the doing. About the showing up. About the consistency. About pushing through the tough times. I never knew that sitting in an air-conditioned apartment could be so "painful" but man, sometimes it is. Write anyway. Prove it to yourself.
I tell the pages things I don't tell anyone else—not my roommates, not my boyfriend, not my parents. Sometimes I tell the pages as a trial run, to practice saying it out loud before sharing with real people. But there are some things in there I haven't told anyone. Having a safe space to confess your deepest hopes, dreams, fears, and worries is frankly, just really cool.
You gotta get the shit out of the way. Whether you're stressed, nervous, freaked out, or blinded with pleasure, leave it on the page. Get out of your head and on to the page so that you can focus on the things that need doing today.
The good stuff always comes out. It takes awhile to get there. You might dance around it, but it's in there, waiting to come out. And once it's on the page, it's a little less intimidating. Maybe you could have that conversation. Maybe you could learn that skill. Maybe you could make that move. Maybe you could start that project. When I look back at 4 years of pages, I find the first traces of ideas that are now realities: friendships and relationships, jobs and personal projects, skills and hobbies. My intensive at the Stella Adler Studio of Acting started on a page.
My friend Josh remarked to me a few mornings ago, "Out of everything you do, I think I find this the most remarkable thing about you." Any compliment makes me smile but I want to tell you a secret: it's also the easiest thing that I do.
So if you want to change careers, act on Broadway, launch a startup, found a dance company, or move to Paris… Start with three pages—750 words—each morning and watch what happens.
I write articles on creativity & entrepreneurship. If you'd like to get them delivered directly to your inbox, you are personally invited to join my mailing list. I'd love to stay in touch with you.