Tools & Tips to Live Tweet A Conference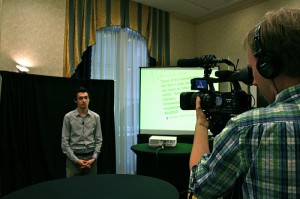 So you want to kick your conference or live event up a notch? And Twitter seems like a perfect solution to help publicize the event to a wider audience while engaging your attendees even more thoroughly. Congratulations, if you're on board so far, you're on the right track. What tools do you need in order to successfully live tweet a conference?
Buy in from key event staff
To maximize your twiffectiveness (that will be my first and last twun–I mean, twitter pun), it's crucial that you get a few staff and volunteers on board. You'll want at least one person tweeting out from the "official" account–whether that's your organization's Twitter account or a special account just for the event. This account should post updates throughout the event, respond to EVERY @reply, and retweet interesting tweets from attendees. Including links to photos and video will add variety to your Twitter stream and photos, videos, and links tend to be the most popular (and most often retweeted) types of tweets on Twitter.
Have a few staff or volunteers tweet from their own accounts to add variety and inject personal voices into the conversation. Allow them to share their honest thoughts, talk with each other, organize tweet-ups (meet ups), and generally use Twitter as they would if they were only attendees.
A (publicized) #hastag
A hashtag is essentially a keyword for tweets. Any word beginning with # turns into a link to search for that term. This allows Twitter users to easily keep track on everything being said about a certain topic. Make sure your hashtag isn't widely in use by another event, group, or topic. The shorter your hashtag, the more space Tweeters have for their message. #PTHC is better than #PhillyTransHealthConference. Publicize the hashtag on your website, in your program book, and in pre-conference emails to attendees AND supporters who may want to interact from home.
Tweeting Presenters
Ask your presenters for their Twitter usernames so you can promote them on your website and in your program book. Encourage them tweet throughout the conference. Connecting attendees directly to presenters will enrich the conference experience for everyone (and add tweets about your event into the mix)!
Twitter widget on your website
It's absolutely crucial that you have a display of live tweets from your event up on your website during the event. You can use the standard Twitter widget and enter your hashtag and/or event title. For a client's recent conference, I setup the search to display "Soulforce Symposium" (the name of the event) AND #ss2010 (the hashtag). Boolean operators is the fancy word for it, it's really as simple as entering "'Your phrase here' AND #yourhashtag"
Display for tweets at the event space
Now that you've got people talking about your event online, how can you bring that conversation into your event space to show it off? Setup a projector in a main space. You may want to put it in the main hall or other gathering space outside of the conference rooms so that folks who aren't doing anything specific can see it.
Visible Tweets
My personal favorite tool for projecting and displaying tweets is Visible Tweets. With Visible Tweets, you enter keywords and hashtags to display, choose your favorite animation, make it full screen and you're off! This tool is particularly effective because it displays each tweet full screen so conference attendees can easily read the tweets. You can see Visible Tweets in action in the background of this picture.
Twitter Fountain
Twitter Fountain displays a stream of tweets with your keywords. You can customize the color, size, and speed of the display and full-screen mode makes projecting onto a display easy. You can also have it pull in photos with certain keywords from Flickr. There's no moderation so make sure that you select your keywords carefully.
Twubs
The Twubs Conference Suite will allow you to moderate which tweets to display. You'll need to signup ahead of time and have someone who can customize and run the Twub before and during the event, so plan ahead!
Something Worth Talking About!
Your event is the ultimate tool for a successful live tweet. Put on an excellent event, that meets the needs of the attendees, and people won't be able to help but talk about it. The best live tweeted event is the one that tweets itself, so to speak.
What else?
Have you organized a conference where participants were encouraged to tweet? How did you prepare for a successful event and what other tools did you use? If you've been to conferences and tweeted, why did you tweet and what did the conference do to help or encourage you (or, hopefully not, to discourage you)?