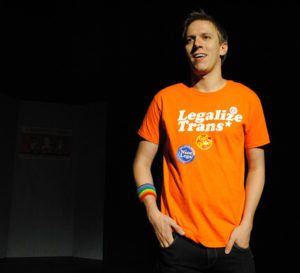 Brian Gerald Murphy is a storyteller and a story-receiver who works at the intersections of identity & injustice so that we may heal ourselves.
Have you ever lost yourself in a good book or walked out of a theater shaken to your core? Stories are powerful. They help us see the world around us more clearly and they help us make sense of ourselves. That's why I tell stories that matter. And perhaps more importantly, why I'm committed to listening to your story — and helping you unlock it, if you want.
I've been the receiver of thousands of stories through my work with Queer Theology and Legalize Trans. And I've been honored to share some stories in places like The Huffington Post, The Advocate, BuzzFeed, and even the front page of Upworthy.
Each week I write a heartfelt (and sometimes raw) love letter to individuals and couples who are seeking to have healthy dialogues around open relationships, boundaries, communication, polyamory and more. I'd love to send them to you too.
You can also listen to me each week on Queer Theology's Lectionary Podcast, available wherever podcasts are found.